10 Movies Where Characters Cheat on Their Partners: Unfaithful, Revenge, The Scarlet Letter and more
February 10, 2018
Knoji reviews products and up-and-coming brands we think you'll love. In certain cases, we may receive a commission from brands mentioned in our guides.
Learn more.
Tribute to movies about cheating, where characters cheat: features The Scarlet Letter, Love Actually, Unfaithful, Closer, Revenge and more.
Cheating is unfortunately a fact of life. And since movies likes to feed from real life, lots of movies include characters that either cheats or has cheated on their partners at one point in the story. This list doesn't include details about the movies plots, but just features the parts about cheating.
Please note that "cheating" can be defined broadly, but here it is defined as engaging in any sort of sexual activity with someone other than one's partner. I also mostly mention actors' names, rather than characters names as it is easier to follow.
Here's the first batch of movies with cheating characters:
1. Le Fate Ignoranti starring Margherita Buy and Stefano Accorsi
A man cheats on his wife (Margherita Buy) for 7 years and she finds out about it after he dies. Moreover, the mistress is a guy (Stefano Accorsi).
2. The Scarlet Letter starring Demi Moore, Gary Oldman and Robert Duvall
Cheating here wasn't conscious. Demi Moore's husband was presumed dead. Of course by this time she was already in love with, and had had sex with Rev. Arthur Dimmesdale (Gary Oldman).
3. Revenge starring Kevin Costner, Madeleine Stowe and Anthony Quinn
Madeleine Stowe's character is married to the much older, rich and not so nice Anthony Quinn. Of course when an old friend of his shows up looking like the 35-year-old Kevin Costner (obviously played by Kevin Costner), the two hook up. However the consequences will not be pleasant if he finds out.
4. The English Patient starring Ralph Fiennes and Kristin Scott Thomas. Featuring Colin Firth
Kristin Scott Thomas is married to Colin Firth. Things are fine in the desert, until Colin leaves for a little while and Kristin falls under the spell of passionate Ralph Fiennes. They start a torrid affair but her conscience and eventually Colin's discovery of the affair will get in the way.
5. Derailed starring Clive Owen and Jennifer Aniston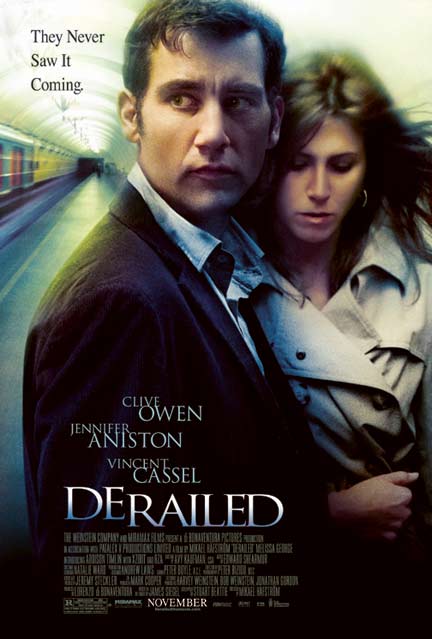 Technically, the sexual activity started can't be finished due to a violent criminal but that is a detail as the one of the characters - Clive Owen- was married and already in bed with his "conquest" (Jennifer Aniston) when a criminal invaded their hotel room.
6. Love Actually starring Colin Firth
Colin firth's girlfriend cheats on him, with his brother.
7. Hope Floats starring Sandra Bullock
Sandra Bullock finds out that her husband has been cheating on her with her best friend- on a live talk show.
8. Something To Talk About starring Dennis Quaid and Julia Roberts
Julia Roberts' husband Dennis Quaid has been sleeping around behind her back, with a couple of her friends.
9. Closer starring Jude Law, Julia Roberts, Natalie Portman and Clive Owen
The whole movie focuses on deceit in relationships. Julia Roberts sleeps with Jude Law behind Clive Owen's back, who has already cheated on her. Jude Law cheats on Natalie Portman.
10. Unfaithful starring Diane Lane, Richard Gere and Oliver Martinez
Diane Lane cheats on her husband Richard Gere with Oliver Martinez.
4 comments