Cheating Celebrity Trivia: 8 Male Celebrities That Cheated on Their Wives or Girlfriends
April 10, 2011
Knoji reviews products and up-and-coming brands we think you'll love. In certain cases, we may receive a commission from brands mentioned in our guides.
Learn more.
This article is a factual list of 8 male celebrities who cheated on the women they were with. It features: Brad Pitt, Jude Law, Ryan Phillippe, Ethan Hakwe, Richie Sambora, Michael Douglas, Kevin Costner and Hugh Grant.
1. Kevin Costner: Kevin Costner made a name for himself being the ultimate romantic leading man. And for 16 years (1978-1994), he also had the reputation as the perfect family guy: loving husband and father of 3 children. He is today the father of 3 more children who are from his second wife. He and Cindy Costner divorced because he cheated. No, not with his current wife. He got married for the second time in 2004.
2.
Hugh Grant:
Back in the day, Hugh Grant and Elizabeth Hurley were the "IT" couple for over a decade. Then Hugh Grant got caught in his car, having sex with a prostitute. Hugh and Elizabeth managed to remain good friends but unsurprisingly, they broke up after the incident. However he is the godfather of Elizabeth's child.
Richie with ex-wife Heather and their kid. Image via http://www.babble.com/
3. Richie Sambora: Bon Jovi guitarist Richie Sambora and actress Heather Locklear got married in 1994. Theirs was a rock n'roll fairy tale: Handsome and famous guitarist married the gorgeous and popular actress. The marriage ended in 2004, when Richie cheated on Locklear- allegedly with actress Denise Richards. Incidentally, Denise is the ex-wife of Charlie Sheen who co-starred with Heather Locklear in Spin City for 2 seasons. Charlie Sheen's brother, Emilio Estevez is good friends with Jon Bon Jovi, the band's singer.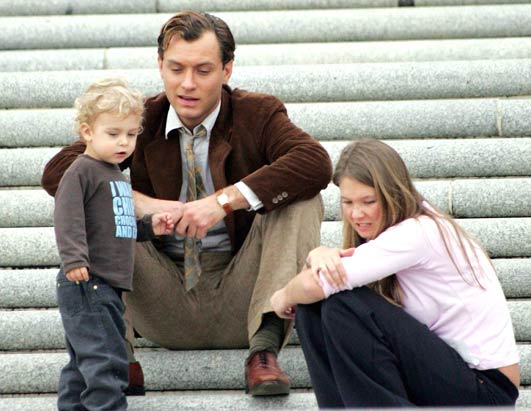 Jude Law with the nannu. Image via http://a.abcnews.com/_jude_law01_050721_ssh.jpg
4. Jude Law: It was all over the tabloids when Jude Law cheated on his fiancé Sienna Miller with the nanny of his children from his ex-wife, Sadie Frost. They broke up over the incident but they are rumored to be back together. Jude Law's fling with the nanny became a joke in the second Sex and The City movie where Charlotte hires a beautiful nanny and her girl friends warn her that there is a law: you don't hire a beautiful nanny. When Charlotte asks which law, Carrie replies: Jude Law!
5. Brad Pitt: Brad Pitt married Friends' star Jennifer Aniston in 2000, when Friends was still on air. They got divorced in 2005. That year, Brad Pitt was shooting Mr. and Mrs. Smith with Angelina Jolie. Jolie and Pitt They have been together ever since, but there are constant rumors that they are about to break-up.
6. Ryan Philllippe: Reese Witherspoon was married by the age of 23. She had married Ryan Phillippe, another young actor in 1999. The marriage ended in divorce after Ryan cheated. The couple has 2 children together.
7. Michael Douglas: Michael Douglas married Diandra Douglas in 1977. The couple got divorced in 2000. It was rumored that not only Michael cheated but he had sex addiction. When the actor remarried the same year, to Welsh actress Catherine Zeta-Johns, they had a prenuptial agreement that stated that if Douglas ever cheated, he would pay Zeta-Jones 5 million dollars, for each time!
8. Ethan Hawke: Actor Ethan Hawke met actress Uma Thurman while shooting sci-fi movie Gattaca. They got married in 1998 and had 2 children. Their marriage ended when Ethan cheated, reportedly with the nanny. Coincidentally, Ethan and Jude Law worked together in Gattaca.
12 comments