The Best International Soups
March 12, 2010
Knoji reviews products and up-and-coming brands we think you'll love. In certain cases, we may receive a commission from brands mentioned in our guides.
Learn more.
Soups are eaten worldwide for nourishing and economical value. Know the best popular international soups consommé from all around the world like England, Russia, Spain, France, Poland, etc
It is probable that soup in its earliest form was a complete meal, because it was found hearty, nourishing, economical and wholesome. Being a liquid it is absorbed quite easily and is utilized very quickly by the body. Here are the list of the best and popular international soups, eaten widely known for their taste, flavour and health value.
1. Minestrone: (Italian) Made of chopped onions, leeks and vegetables tossed in pork fat with water and cooked consommé, or with tomatoes, diced of beans, spaghetti, rice, peas, garlic, parsley and chopped basil.
2. Turtle Soup: (England) Consommé of beef, chicken and turtle, flavoured with basil, marjoram, sago, rosemary, thyme, coriander, peppercorns, bay leaf and thickened with arrowroot, garnished with warm cherry.
3. French Onion Soup: Consommé garnished with fried onions served with melba toast with cheese gratinated under the salamander (Soupe A l'Oignon)
4. Cock-A-Leekie: (Scotland) Chicken and veal consommé garnished with juliennes of leeks, prune and chicken.
5. Mulligatawany: Broiled spices cooked in water with tomatoes, onion, served with rice, sliced onions and lemon wedges. In case of non-vegetarian, it is garnished with small pieces of mutton which is cooked with the soup.
6. Bortsch Polanaise: (Poland) Duck flavoured consommé, strongly flavoured with parsley, root vegetables, celery, fennel, marjoram, peppercorns. Garnished with juliennes of leeks, carrot, beetroot, cubes of beef and duck. Accompaniments are:
i). Warm Beetroot Juice
ii). Sour cream
iii). Bouches stuffed with duck force meat.
7. Bortsch Koop: (Russia) Julienes of leeks, carrots, onions, celery, beef, moistened with consommé. Garnished with minced beetroots and cereal with bouchees filled with chicken, forced meat and beetroot juice.
8. Hongroise: (Hungarian) Dices of beef seasoned with paprika, tossed in butter with onions, and flour. Moistened with consommé and garnished with/dices of potatoes, pinch of fennel, crushed garlic and fried croutons.
9. Biere: (German) Veloute with beer, salt, sugar, pepper, cinnamon, garnished with toast.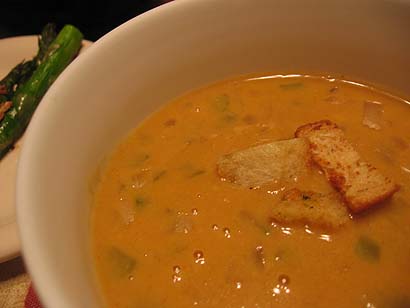 10. Gazpacho: (Spain) It is a cold vegetable soup of cucumber, tomato and capsicum, garnished with dices of cucumber, tomato and capsicum.
13 comments