The Absolute Timothy Hutton Trivia: 18 Facts About Leverage Star Timothy Hutton
August 29, 2010
Knoji reviews products and up-and-coming brands we think you'll love. In certain cases, we may receive a commission from brands mentioned in our guides.
Learn more.
Trivia to Leverage TV series star Timothy Hutton who won Oscar at the age of 20 with his role in the movie Ordinary People.
1. Timothy Hutton was born in 1960, in Malibu, California.
2. His birthday is on August 16.
3. He stands at 5' 11¾" (1.82 m).
4. He started acting when he was in the ninth grade.
5. He started appearing on the screen at the age of 5. This was an uncredited appearance as a kid in a movie his father (Jim Hutton) was making.
6. Timothy Hutton's father – the late Jim Hutton- was also an actor.
7. Tim's first credited screen appearance was in the TV movie Zuma Beach in 1978.
8. In 1980's Ordinary People, Timothy Hutton starred opposite Donald Sutherland, Mary Tyler Moore and Judd Hirsch. Timothy played the younger son of an upper-middle class family who lost their older son to a boating accident. With this film, Timothy won Oscar for Best Actor in a Supporting Role at the age of 20. He was the youngest actor to win the Best Supporting Actor Award and I believe he still holds the record.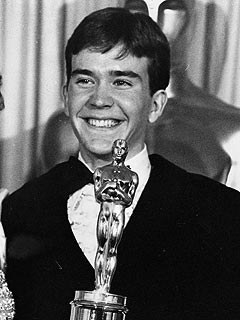 9. After winning an Oscar for Ordinary People and getting a Golden Globe nomination (Best Actor) for his performance in Taps (co-starring Tom Cruise), he was the filmmakers' first choice when they were casting the lead role in the 1983 comedy Risky Business. However, despite the objections of everyone, he turned down the role; saying there is nothing he could learn from making that film. The role went to Tom Cruise, and is known for one of the movies that helped Tom become the star he is today. Timothy has said that he still doesn't regret his decision. His choice over Risky Business was Sydney Lumet's Daniel.
10. He is currently married to his second wife His wife, Aurore Giscard d'Estaing, children's book illustrator. They have a son together.
11. His first wife was actress Debra Winger. They have a son together, born in 1987.
12. He is currently starring in the action/crime/drama/comedy series Leverage as Nathan Ford, an ex insurance agent who is now working as the leader of 4 specialized thieves: a hitter, thief, grifter and hacker.
13. He has a Twitter account.
14. He has co-starred with Meg Ryan twice. Both films – French Kiss and Serious Moonlight are romantic comedies and they involve Timothy's character (trying to) to leave Meg Ryan's character for another woman.
15. In French Kiss, he plays Charlie, Meg Ryan's character's fiancée who goes to France for business, only to dump Kate over the phone for a French girl he met. Meg Ryan hops into a plane to go to France and meets the charming but unreliable French guy Luc (Kevin Kline). She ends up making a deal with Luc to get Charlie back.
16. In Serious Moonlight (2009), Meg Ryan's Louise comes home to surprise her husband (Timothy Hutton) only to find him getting ready to leave her for the younger Sara (Kristen Bell). When he doesn't want to work things out, she knocks him out, ties him up and demands he remembers the good old times. Things get out of hand when burglars take both of them hostage.
17. His male co-stars include Tom Cruise and Sean Penn (Taps - he starred with Sean Penn in another movie as well), Christian Kane and Aldis Hodge (Leverage), Donald Sutherland and Judd Hirsch (Ordinary People), Harvey Keitel and Stephen Dorff (City of Industry), Ewan McGregor and Pierce Brosnan (The Ghost Writer), Matt Damon and Lee Pace (The Good Shepherd), Liam Neeson (Kinsey), Secret Window (Johnny Depp), Alec Baldwin (Lymelife) and Matt Dillon (Beautiful Girls).
18. His female co-stars include Sharon Stone (When A Man Falls), Meg Ryan, Mary Tyler Moore (Ordinary People), Uma Thurman, Natalie Portman, Lauren Holly and Annabeth Gish (Beautiful Girls), Famke Janssen (City of Industry), Chloe Sevigny (The Killing Room), Mira Sorvino and Dana Delaney (Multiple Sarcasms), Beth Riesgraf and Gina Bellman (Leverage).
7 comments