Jennifer Garner Trivia: 15 Facts About Actress and Mrs. Ben Affleck Jennifer Garner
September 19, 2010
Knoji reviews products and up-and-coming brands we think you'll love. In certain cases, we may receive a commission from brands mentioned in our guides.
Learn more.
Trivia for actress Jennifer Garner: Fun facts about Jennifer Garner movies, bio, husband Ben Affleck, exes; features pics and movie posters.
1. Jennifer Garner was born in 1972, in Houston, Texas.
2. Her birth name is Jennifer Anne Garner.
3. She stands at 5' 9" (1.75 m).
4. Her first major break was her "best friend" role in the TV series Felicity starring Keri Russell. She met her first husband Scott Foley at its set.
5. She is married to Ben Affleck. The two met at the set of Daredevil, a comic book adaptation where Affleck played Daredevil/Matt Murdock and Jennifer played his love interest, also a comic book hero, Elektra. She was dating Alias co-star Michael Vartan at the time. She reportedly had left husband Scott Foley for Vartan.
6. She and Ben Affleck have two kids together.
7. They were married by her Alias co-star Victor Garber who played her character's father in the series. He got the license specifically for their wedding and reportedly, he was the only guest.
8. Jennifer Garner's real break came with the lead role in Alias, an action/thriller/drama/mystery TV series J.J. Abrams created before Lost. The show was a hit and went on for 5 years (2001-2006). Jennifer played agent Sydney Bristow; an intelligent, beautiful, physically tough but emotional operative who could pull pretty much any stunt, get into any disguise and kick every enemy's butt. The conflicts that make the show arise when she finds out that the organization she had been working for was not a branch of CIA, but an enemy organization. She finds out, they kill her fiancée. To take revenge (by taking the organization down), she goes to the real CIA and becomes a double agent, pretending to be loyal to her old organization. As it turns out, she has a lot of secrets to uncover about her parents as well.
9. She resumed her role as Elektra in the movie Elektra. However neither Daredevil nor Elektra were huge successes.
10. She enjoys doing most of her own stunts.
11. In addition to being one of Hollywood's favorite action stars, she has also starred in many romantic comedies: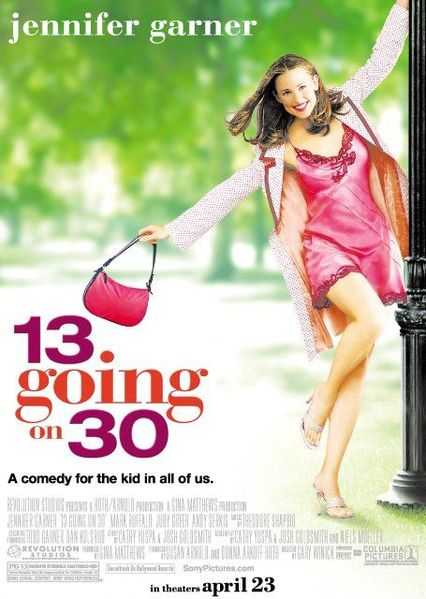 *13 Going on 30, co-starring Mark Ruffalo, told the story of a 13-year-old girl who one day woke to be her 30-year-old-self, only her "soul" was still 13 and apparently her 30-year-old version was not exactly a nice person.
*In Ghosts of Girlfriends Past, she starred opposite Matthew McConaughey and played his love interest. Matthew's character, as the name suggested, got visited by the ghosts of his girlfriends who all wanted to give him a piece of their minds. The movie co-starred Michael Douglas.
*In, Valentine's Day she co-starred with one of the biggest and most popular ensemble casts Hollywood has seen, featuring Bradley Cooper, Julia Roberts, Ashton Kutcher and many more celebrities (the cast is listed below at number 9).
*Catch and Release is a drama/comedy/romance starring Jennifer Garner, Timothy Olyphant, Kevin Smith, Sam Jaeger and Juliette Lewis. Her character is devastated at her fiancée's death, who she had been with for 7 years. Financial troubles force her to move in with his best friends (Kevin Smith and Sam Jaeger) and as she tries to cope with his death, she gets to know his other good friend (Timothy Olyphant) and uncover some secrets about her fiancée in the process.
*The Invention of Lying co-stars Ricky Gervais, Tina Fey and Rob Lowe. The Invention of Lying is set in a world where people can't lie. Since there are no lies, there is also no imagination and no fiction. The movie becomes even funnier after Ricky Gervais' character realizes that for some reason, he alone can lie and uses this "benefit" to get the job and the girl of his dreams.
12. Her TV co-stars include Keri Russell, Scott Foley (Felicity), Michael Vartan, Victor Garber, Lena Olin, Bradley Cooper, Greg Grunberg, Ron Rifkin, Peter Berg, Kevin Weisman, Carl Lumbly, Melissa George, Balthazar Getty, Mia Maestro and Merrin Dungey (Alias).
13. Her movie co-stars include Bradley Cooper, Julia Roberts, Shirley MacLaine, Ashton Kutcher, Topher Grace, Anne Hathaway, Jessica Alba, Eric Dane, Patrick Dempsey, Jamie Foxx, Taylor Lautner (all in the movie Valentine's Day), Ben Affleck, Colin Farrell and Michael Clarke Duncan (Daredevil), Mark Ruffalo (13 Going on 30), Ellen Page, Jason Bateman, J.K. Simmons (Juno), Peter Berg, Chris Cooper (and Jamie Foxx in The Kingdom), Ricky Gervais, Tina Fey and Rob Lowe (The Invention of Lying), Leonardo DiCaprio and Tom Hanks (Catch Me If You Can), Matthew McConaghey and Michael Douglas (Ghosts of Girlfriends Past).
14. She appeared in two movies with Ashton Kutcher. One is Valentine's Day. The other is a comedy from 2000 called Dude Where's My Car? Co-starring Sean William Scott. In Dude Where is My Car, she played the girlfriend to one of the characters. In Valentine's Day, she played Ashton Kutcher's best friend.
15. She co-starred with Bradley Cooper twice. He played her journalist best friend Will Tippin in Alias. In Valentine's Day, he doesn't have any scenes with her.
5 comments