3 Best Movie Presidents featuring Bill Pullman, Harrison Ford and Michael Douglas
September 8, 2010
Knoji reviews products and up-and-coming brands we think you'll love. In certain cases, we may receive a commission from brands mentioned in our guides.
Learn more.
Tribute to 3 movies where the leading characters are heroic and romantic American Presidents featuring Harrison Ford in Air Force One, Bill Pullman in Independence Day and Michael Douglas in The American President.
Politics is a tricky business. Lots of things go on behind the scenes and there are a lots of grey areas. And as far as politics go, one of the most difficult and challenges job one might have is being the President of The United States. With their lives more open to the public than any celebrity, these politicians are also very prone to scandals.
I am not American and I am not all that knowledgable about the history. But I do know about John F. Kennedy and his relatinship to Marilyn Monroe and who can forget about the oval office and Monica Lewinski scandal former President Bill Clinton brought on? And there is the riot all the world newspapers used to have every time former President Bush's tongue slipped?
But when movies and the fictional presidents are concerned, it makes more sense to create the ideal man and leader. A humane, yet emotional man. A sensitive but strong leader who cares more about his family, country and the rest of the world than he cares about his power.
These three movie presidents made me wish that they were real. And had they been real, and had I been American, I'd surely vote for them. Twice.The movie genres are different and so are the actors. But the common characteristics of these fictional presidents are: They are loyal, strong, true to their word, they care about family, love, friendship, peace and honor. They are also charismatic and handsome, in addition to being friendly, approachable and having a sense of humor.
Bill Pullman- Independence Day
Independence Day is an action/adventure/sci-fi/thriller directed and co-written by Roland Emmerich, a director famous for "disaster" movies such as The Day After Tomorrow, 2012 and Godzilla. The movies starring actors are Bill Pullman, Jeff Goldblum and Will Smith.
Bill Pullman plays President Thomas J. Whitmore. Thomas J. Whitmore is a former pilot and a happily married family man. He is also a loved and respected President. When the aliens invade the earth, he needs to encourage the nation and fight with the aliens on a personal level. Many movie Presidents usually fight strategically. Bill Pullman's Thomas personally gets on an aircraft to destroy the aliens.
Harrison Ford- Air Force One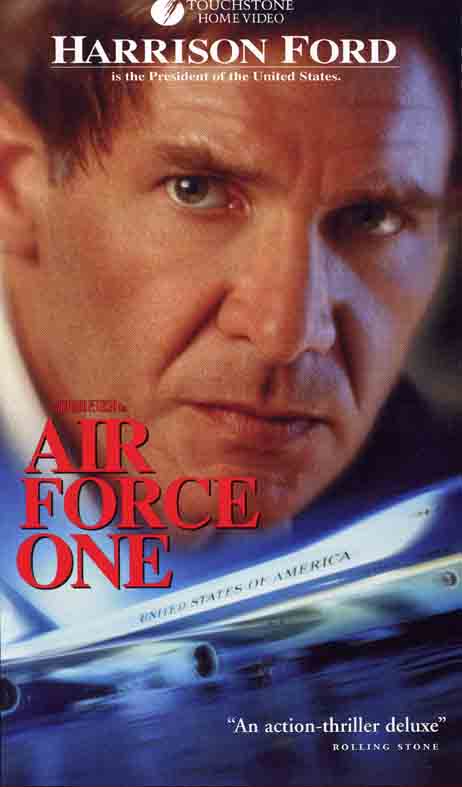 A group of terrorists hijack Air Force One. The protocol is to send the President off the plane, safe and sound. But it is not just his staff that is on the plane, but his wife and daughter too. So President James Marshall (Harrison Ford) uses this protocol to his advantage, letting everyone think that he left the plane. However it is him against a group of terrorists, led by the smart, demanding and nationalistic Ivan (Gary Oldman).And when Vice President (Glenn Close) and President's staff on the ground realize that he is still on the plane, they will have to face one of the most difficult missions ever.
In this movie, the President risks his own life so that he can save his family's and his staff's lives.
Air Force One is an action/thriller from 1997 nominated for 2 Oscars. The nominations were for Best Editing and Best Sound.
Michael Douglas - The American President
The American President is a romantic comedy/drama from 1995 starring Michael Douglas, Annette Bening, Martin Sheen, Richard Dreyfuss and Michael J. Fox.
The movie tells the story of President Andrew Shepherd is in the re-election year and going strong against his opponent Senator Bob Rumson (Richard Dreyfuss). However one meeting changes things forever. When single parent Andrew meets environmental lobbyist Sydney Ellen Wade (Annette Bening), he feels something he hasn't felt in years. Despite the objections and concerns of his trusted staff, he asks her out. From then on, Bob Rumson will do everything to insult Sydney, show their relationship in a bad light and use Andrew's romance to launch a fight against the President's character. It doesn't help matters that Sydney is also working with the President on an environmental matter.
Despite being the most powerful man in the world, can Andrew be strong enough to keep his voters happy, keep his promise to Sydney, defeat Bob and be in a healthy romantic relationship with Sydney at the same time? Or is it impossible for the American President to also be a man in love?
Granted, Michael Douglas' Andrew Shepherd doesn't directly save any lives like the characters of Bill Pullman and Harrison Ford do. But he shows a more romantic side. We see him trying to get on a first date, flirt, dodge the press and trying to keep his crush interested, while trying to keep his position. It makes for a nice change to see a President all romantic but powerful and charismatic all at the same time.
3 comments