Towns and Cities with Dirty Names
May 20, 2012
Knoji reviews products and up-and-coming brands we think you'll love. In certain cases, we may receive a commission from brands mentioned in our guides.
Learn more.
Names are at times funny and weird. But for some places, their names are more than just funny – they actually sound kinky and dirty. The origins of their names can be traced to local words for specific characteristic of the area, to the person or p
Names are identities. But what if a certain place has a dirty name? Will you enjoy visiting it? Or the mere name will simply repel you away?
Here are some towns and cities whose names will put a smile on your face, no matter how dirty or kinky they may sound:
Fucking, Austria. This village is found in Tarsdorf in Upper Austria. The village has a population of only 104 people or 32 houses (2005). Its name is taken from the Bavarian nobleman named Focko who founded the settlement in 6th century. It underwent several name changes until the 18th century when it was finally established as Fucking, meaning "place of Focko's people". Anyway, it is pronounced as f?kIn, rhyming with "booking."
Penistone, UK. It is a small market town in South Yorkshire, England. With a population of 10,201 (2001), the name Penistone is a compound word from the Welsh Celtic words penn (meaning "end", "hill", or "head) and is ("below") with the suffix ton ("enclosure" or "estate").
Bird-in-Hand, Pennsylvania. It is an unincorporated community in Pennsylvania, USA. The community has a total population of approximately 300. Its name is taken from the expression, "A bird in the hand is worth two in the bush" which two road surveyors used during a discussion when the town was founded in 1734.
Hooker, Oklahoma. With a population of 1,918 (2010), Hooker is a city in Texas County, Oklahoma. The city is named in honor of ranch foreman John "Hooker" Threkland.
Wetwang, UK. This village is located in the East Riding of Yorkshire, England and has a population of 672 (2001). Its name is derived from the Old Norse vaett-vangr or "field for the trial of a legal action."
Intercourse, Pennsylvania. With a population of 1,558, Intercourse is an unincorporated village in Leacock Township, Lancaster County in Pennsylvania, USA. The community was initially established as Cross Keys in 1754 but was later changed to Intercourse in 1814. The crossing of two famous roads is believed to be the origin of the name.
Middelfart, Denmark. The municipality is located on the island of Funen, Denmark and has a population of 14,781 (2011). The name Middelfart means central passage, referring to one of the three links formerly connecting the island of Funen with the peninsula of Jutland.
Anus, France. Anus is found in Burgundy France, within the commune of Fouronnes.
Dildo, Canada. It is a town on the Newfoundland island in the province of Newfoundland and Labrador, Canada. Though established in 1711, there are no clear origin of the town's name.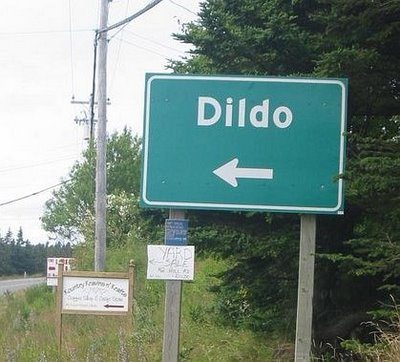 Blowhard, Australia. Blowhard is a country town in Victoria, Australia.
Assloss, Scotland. Assloss is found in Kilmarnock, Scotland.
Big Bone Lick, Kentucky. Big Bone Lick is found in Big Bone in southern Boone County, Kentucky, United States. It is famous for the salt lick, or simply lick, which was long known to the original inhabitants of the area. Several Pleistocene megafauna fossils have been found there and it is believed that mammoths once lived in the area.
Dickshooter, Idaho. This small community is found between Battle Creek and Deep Creek in Owyhee County, Idaho. The place is popular for its year-round recreational activities like hiking, camping, swimming, hunting, fishing, snowmobiling, and many others.
Wank, Germany. The name is short for Wankum, a town in North Rhine-Westphalia, Germany.
Three Cocks, Wales. It is a village in Powys, Wales. The name refers to the mouth of the Afon Llynfi which enters the River Wye just east of the village.
Sexmoan, Philippines. Sexmoan is now Sasmuan, a fourth class municipality in Pampanga, Philippines. it has a population of 26,630 people or 4,343 households. The name came from the Kapampangan rootword sasmo which means "to meet."
12 comments