SUPERHERO Tattoos - Popular Designs and Superhero History
February 21, 2012
Knoji reviews products and up-and-coming brands we think you'll love. In certain cases, we may receive a commission from brands mentioned in our guides.
Learn more.
Superhero tattoos have become a growing trend and theme based on the designs, characters and persona's of classic and modern superhero's. Explore a list of some of the most popular superhero's that have been featured in films, comics and creative story te
Superhero tattoo's have been a very popular choice for decades for people who have chosen to adorn their body with tattoos.
Superheros are figures or beings that are dedicated to protecting the health and well being of others and classically, they are known to have extraordinary abilities that would or could be considered superhuman such as strength, vision, speed, and much more. Superman, one of the original superhero's, came onto the scene in 1938 in short clips and longer segments on film but comic books have been the main platform in which superheros have been featured. The term, "Super Heroes" is actually trademarked and co-owned by two comic giants, DC comics and Marvel Comics.
In the traditional persona or portfolio, a superhero assists law enforcement and works towards exposing and fighting crimes. They are also often depicted to have two egos in which one ego is a secret identity. The main persona ego and the alter ego which typically, the alter ego is the superhero persona. They often thwart the efforts of supervillians which tend to be polar opposites in ideals, morals and agenda's but have parallel or comparable superhuman strength and abilities. Supervillians are often masterminds of evil plots in which the superhero's fight against that can threaten not only the general population of the planet, but also those they hold near and dear to their heart. Often a supervillian will specifically target a superhero's chosen love or family as a method to weaken and defeat the superhero. Superhero's are also depicted wearing costumes or clothing that not only could conceal their identity, but are at times superhuman in capability as well. Whether the costume is protective against fire, cold, bullets or other things, a costume is a standard tool and weapon in their arsenal.
Superhero's also combat threats to humanity or the planet from extraterrestrial beings and supernatural or mythological entities and creatures.
Listed below are several popular superheroes:
Batman
Spider-man
Superman
The Hulk
Iron Man
Wolverine
Captain America
Cyclops
Mr. Fantastic
Storm
Human Torch
Thor
Invisible Woman
Wonder Woman
Iceman
Storm
Phoenix
Aquaman
The Phantom
Cat Woman
Silver Surfer
Green Lantern
Ghost Rider
Blob
Black Night
Celebrating characteristics, persona's and attributes of superheroes, people often choose to get a tattoo that features their favorite hero they can most relate to. Below are several examples.
THE HULK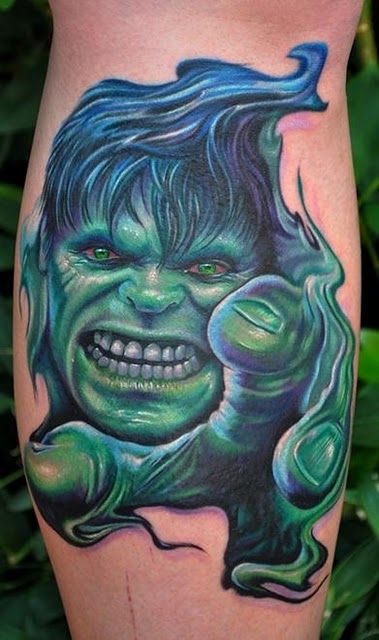 IRON MAN
SUPERMAN
CAT WOMAN
GHOST RIDER
GREEN LANTERN
BATMAN
WOLVERINE
WONDER WOMAN
SPIDER-MAN
Want to explore more tattoo articles?
You're invited to take a look at other tattoo articles I've written such as Flower designs, Star Wars designs, Disney character themes, top quality Religious themes and Portraits.
2 comments