OCEAN Tattoo Designs, Themes and Fun Facts
September 27, 2012
Knoji reviews products and up-and-coming brands we think you'll love. In certain cases, we may receive a commission from brands mentioned in our guides.
Learn more.
Oceanic and undersea or sea-life tattoo's have been a favorite theme among tattoo enthusiasts. See new and detailed designs, and learn more about what's really underneath those beautiful images. From seals to fish, mermaids, dolphins, pirate themes and mo
Oceanic tattoo's have been a favorite among tattoo enthusiasts. Not only are they usually intricate and full of detail, but the message they convey is often a personal one. From mermaids to fish, boats, whales, dolphins, seaweed, octopus, sharks and more, tattoo's with an oceanic theme are growing in popularity today.
What's in the Ink?
Today, as popularity for tattoos grows, so do the variety of materials, inks and designs. Modern inks are carbon-based pigments and there are a whole range of dyes and pigments that are widely used in designs. With that said, some tattoo inks are creating a controversy in the medical industry due to some inks containing trace amounts of metals. When a patient receives an MRI, or Magnetic Resonance Image, the magnetic fields interact with metals which could inadvertantly cause second and third degree burns, although rare. Mostly, the interaction causes a distortion in the image of the MRI. This interaction which was recently tested on the television show, Myth Busters, discovered that there was indeed an interaction with MRI's and certain tattoo inks, especially those that contain high levels of iron oxide, which is often used for cosmetic tattooing. This discovery introduces the question of whether or not tattoo's can cause a change or "redirecting" of a human being's electromagnetic energy field, or the neuropathways between the brain and nervous system, depending on how much iron oxide or other trace metals from tattoo pigment is within the dermal layers of the body. Similar to how chemicals in the atmosphere can alter the weather patterns which in turn alter the jet stream, it brings up the question of whether or not tattoo's have an affect on the human anatomy.
Iron Oxides
Altogether there are sixteen varieties of iron oxides which are chemical compounds consisting of iron and oxygen. Common rust is a form of iron oxide and the most popular colors of iron oxide are in the earth tone family; orange, yellow, brown, red and black. Iron oxide is also commonly used in paint, concrete coloring and coating for industrial purposes.
In the image shown above, we see a fluid movement of all the sealife shown. From the sway and rippling of the kelp and waves above, we can see how the artist used their expertise of shading highlights to convey to the viewer, a sense of movement. We can also see the creative addition of fish, lobster, coral and other sealife to depict a full spectrum of life underwater.
In the image shown above, we see a full side torso tattoo that takes the nautulus and octopus design shapes and turns it into a full color fractal graphic image with sweeping curves, curls and contrasting color. The artist conveys a balanced blend of oceanic imagery with geometric configurations.
The image above features a foot tattoo which is a favorite body part that both women and men choose to adorn their bodies with permanant ink. Although smaller, this image does not lack in detail or color. In this image, we see a sea turtle in full motion with a backdrop of fish and a coral reef.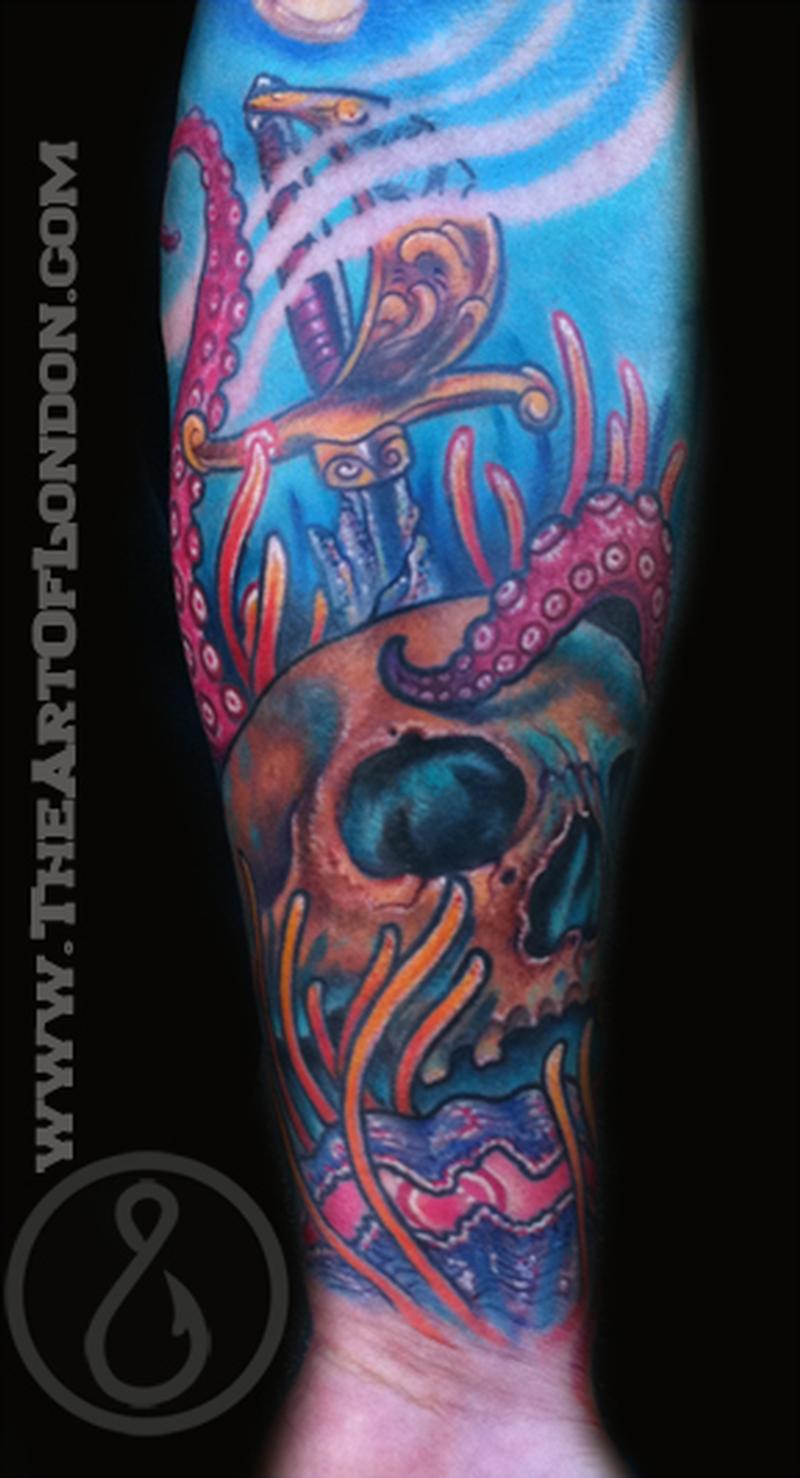 The leg tattoo above takes a common theme and incorporates an interesting twist of classic piracy by featuring a skull, elaborately detailed sword and an octopus' appendages wrapped around them. The white streaks through the sea of blue showcase an energy of movement and wave motion for a balanced blend of elements.
In the image shown above with this full chest tattoo, we see King Neptune and incredible energy coming from his trident, along with a skull and bold contrasting colors of blue and green in the background.
2 comments