Cast, Crew and Movie Trivia for Knight and Day starring Tom Cruise and Cameron Diaz
July 17, 2010
Knoji reviews products and up-and-coming brands we think you'll love. In certain cases, we may receive a commission from brands mentioned in our guides.
Learn more.
This is a cast, crew and movie triva for the movie Knight and Day, featuring information on Tom Cruise, Cameron Diaz, Peter Saarsgard, Marc Blucas, director James Mangold and writer Patrick O' Neill.
Image via http://jatufilmrev.files.wordpress.com
* Knight and Day was directed by James Mangold and written by Patrick O'Neill. The cast features Tom Cruise, Cameron Diaz, Peter Saasrsgard, Jordi Molla, Paul Danno and Marc Blucas.
* Director James Mangold does not stick to one genre. His movies are:
Image via http://blog.sme.sk/
- 3:10 To Yuma starring Russell Crowe and Christian Bale- which is a western thriller and is rated 7.9 on IMDB.
Image via http://celluloidheroreviews.com
- He directed Walk the Line in 2005. The movie is about the life of famous singer Johnny Cash and his wife, based on the book by Johnny Cash. It stars Reese Witherspoon and Joaquin Phoenix . Reese Witherspoon won Oscar for Best Actress and Joaquin Phoenix was nominated for Best Actor.
Image via http://muzik.vhodv.com
- In 2003, he directed John Cusack and Amanda Peet in Identity, a thriller with a surprising end. It is rated at 7.3.
Image via http://i26.tinypic.com
- In 2001, he directed Hugh Jackman and Meg Ryan in Kate and Leopold- a romantic comedy rated at 6.2. The movie tells the story of a noble man who time-travels by accident and falls for a girl in present time New York.
Image via http://lemonstreblogg.files.wordpress.com
- In 1999, he directed Girl, Interrupted- a biography/drama starring Angelina Jolie and Winona Ryder. Angelina Jolie won Best Supporting Actress Oscar with this role.
Image via http://ec1.images-amazon.com
- His debut film Heavy- written by James Mangold himself-stars Liv Tyler and tells the romantic story between an overweight guy and a waitress.
* Screenwriter Patrick O'Neill is also an actor and a producer, although he doesn't have a role in Knight and Day and he is not one of the producers. This is his first movie screenplay. He previously wrote some of the episodes of the TV show Dead Last (2001). His acting credits include the films Say Anything and Gross Pointe Blank and both these films star John Cusack. 1989's Say Anything was written and directed by Cameron Crowe, who directed Knight and Day leading man Tom Cruise in two films: Jerry Maguire and Vanilla Sky. Both movies were written by Crowe.
Image via http://images2.makefive.com
Image via http://joliesimons.files.wordpress.com
Image via http://www.piccolemedieaziende.it
Above: Vanilla Sky starring Tom Cruise, Penelope Cruz and Cameron Diaz. Written and directed by Cameron Crowe,2001.
Image via http://coolrain44.files.wordpress.com
Above: Jerry Maguire starring Tom Cruise. Written and directed by Cameron Crowe.
Marc Blucas image via http://www.movieeye.com.
* Marc Blucas plays Rodney, firefighter and Cameron Diaz' ex. You might remember Marc Blucas from his recurring role in Buffy The Vampire Slayer as Riley Finn, Buffy's boyfriend and a special agent trained to fight demons and monsters. His role lasted for 31 episodes. His TV credits include an episode of popular ABC show Castle and an episode of House. One of his more memorable roles is in The Jane Austen Book Club, where he plays Emily Blunt's husband.
The Jane Austen Book Club. Image via iulianfira.files.wordpress.com
Peter Saarsgard image via http://blogs.orlandosentinel.com
* Peter Saarsgard plays the FBI agent Fitzgerald that Tom Cruise's Roy Miller claims to have gone rogue. Fitzgerald claims Roy is the rogue one. Peter is good friends with Jarhead co-star Jake Gyllenhaal, who also happens to be his brother-in-law. Peter married Jake's sister Maggie in 2009. They have a child together.
Image via http://www.moviewallpaper.net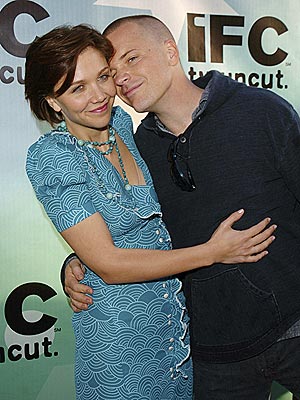 Peter with wife Maggie. Image via http://img2.timeinc.net/
* This is the second time Tom Cruise and Cameron Diaz are in a film together. They previously appeared in Vanilla Sky. Tom played a young, rich businessman who saw Diaz's character merely as a bed buddy until he met the love of his life, Sophia (Penelope Cruz). In Knight and Day, the romance is all between Cameron's Julie and Tom's Roy.
Cameron Diaz got popular as an actress with her role in The Mask opposite Jim Carrey. In addition to Tom and Jim, Cameron has also made movies with Keanu Reeves, John Cusack, John Malkovich, Leonardo DiCaprio, Ewan McGregor, Daniel Day Lewis, Edward Burns, Ben Stiller and Matt Dillon.
Cameron with co-star Jim Carrey in 1994's The Mask. Yes, Jim Carrey is "the mask".
Her ex-boyfriends include actors Matt Dillon and Jared Leto and singer Justin Timberlake.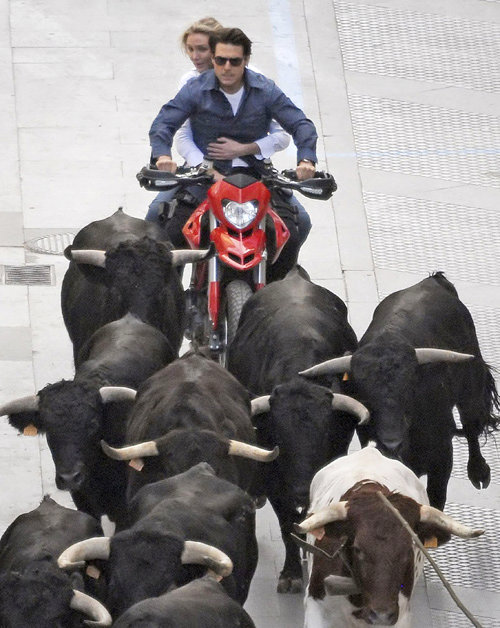 Image via http://www.aceshowbiz.com/images/news/00029197.jpg
* The story has scenes in USA, Spain and Austria.
12 comments