Canadian Celebrity Trivia: Featuring Bryan Adams, Jim Carrey, Michael J. Fox, Ryan Reynolds and More
September 12, 2010
Knoji reviews products and up-and-coming brands we think you'll love. In certain cases, we may receive a commission from brands mentioned in our guides.
Learn more.
Trivia for 10 Canadian Celebrities feat. Nathan Fillion, Brendan Fraser, Ryan Reynolds, Donald Sutherland, Kiefer Sutherland, Michael J. Fox, Jim Carrey and more.
This article is a trivia dedicated to 10 Canadian Singers and Actors. There are many more Canadian celebrities of course but this is the first 10 that came to my mind. The numbering is random.
1. Ryan Reynolds
Ryan Reynolds is a Canadian actor born in 1976, in Vancouver. He is one of the lucky actors whose movie career became more popular than his TV series. He first gained recognition in the comedy series Two Guys, A Girl and A Pizza Place (it later dropped the "A Pizza Place" in the title and became "Two Guys and A Girl"). He has managed to star and co-star in many different genres including action, adventure, comedy, romantic comedy, drama, sci-fi, thriller and various combinations of these genres.
His movie credits include both big budget Hollywood films (including comic book adaptations Wolverine, Deadpool and Green Lantern) as well as smaller scale independent films. He is currently married to one of Hollywood's favorite sex bombs and critically acclaimed actresses, Scarlett Johansson.
2. Donald Sutherland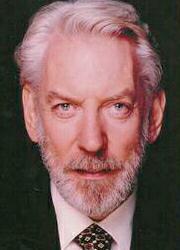 To many movie buffs, Donald Sutherland is one of the most notable leading and character actors. Born in 1935, in New Brunswick, Canada; Donald Sutherland is as famous with his actor son Kiefer Sutherland (who is next on the list) as he is with his work. He has 2 Golden Globes, an Emmy and many other awards and nominations. One of the Golden Globe nominations is for his role in the film Ordinary People for Best Actor in a Drama.
Donald Sutherland has been appearing on screen since 1962. His body of work features both leading and supporting roles, movies, TV films and TV series.
3. Kiefer Sutherland
Son of Canadian actor Donald Sutherland Kiefer was born in 1966, in London, England. Even though Kiefer has been acting on screen since 1983 and has had many memorable performances, His A-list Celebrity status came with his leading role in the hit drama/thriller series 24 where he played CTU (Counter Terrorist Unit) Agent Jack Bauer. The show lasted for 8 successful seasons and a movie adaptation is in the works, also starring Kiefer Sutherland. The show was both a critical and commercial success. It won 2 Golden Globes, one of which went to Kiefer Sutherland in 2002 for Best Actor in a Drama Television series.
4. Michael J. Fox
Michael J. Fox has been one of Canada's and Hollywood's biggest stars since the 1980s, especially after starring in the hit Back to the Future trilogy where he starred as the high school student, rock n' roll-loving Martin McFly, whose friendship with the eccentric scientist Emmett Brown introduces him to a time machine.
Michael J. Fox was born in Alberta, Canada; in 1961. He first gained recognition with his role as Alex P. Keaton in the comedy series Family Ties, which was on air from 1982 to 1989. It is on this show's set that Michael met his wife Tracy Pollan.
Unfortunately in 1991, he was diagnosed with Parkinson's disease. The symptoms began during the filming of his romantic comedy Doc Hollywood. From 1995, Fox started taking supporting roles and doing more voice-overs. Even though he starred in the hit comedy Spin City that first aired in 1996, his character Mike Flaherty most often had his hand in his pocket, which enabled Michael J. Fox to deal with the shaking of his hand (a symptom of Parkinson's) . He announced his disease in 1998 and continued starring in the show until 2001. Afterwards the symptoms became too difficult to have under control whilst having a full time acting gig so he quit the show and continued taking smaller roles in TV series and doing voice-overs. Michael is also busy writing books on coping with the disease and he has his own Parkinson Foundation.
5. Nathan Fillion
Nathan Fillion was born in 1971, Alberta, Canada.
Like fellow Canadian actor Ryan Reynolds, Nathan Fillion also gained recognition with his role in Two Guys, A Girl and a Pizza Place. However unlike Reynolds, Nathan went on to develop his TV career, occasionally starring in movies but mostly appearing on TV shows in both lead and supporting roles. He made good friends with Buffy the Vampire Slayer series creator Joss Whedon when he guest-starred on the show and the duo went on to make sci-fi series Firefly together where Nathan had the leading role. Even though the show only went on for one season, it gained a loyal following and it was made into a movie by the same team in 2005. The movie was called Serenity.
Nathan Fillon's star, however, has started shining more brightly after he took the lead role in the action/crime/thriller/comedy/drama series Castle where he stars as Richard Castle, a bestselling author who has great resources and connections. His quest for his next story results in him pairing up with beautiful and accomplished homicide detective Kate Beckett . The show first aired in 2009. The show is coming back with its 3rd season on September, 20th.
6. Alanis Morisette
Singer Alanis Morisette was born in 1974, in Ontario, Canada. She has quite a diverse background as she started her music life as a Canadian pop princess but found breakthrough success as one of the most popular female rockers.
She has won 7 Grammys and released several hit albums. Her most famous album to date is her 3rd studio album Jagged Little Pill. The album contained many popular songs. You might recall these 5: You Ought to Know, You Learn, Ironic, Hand in my Pocket and Head over Feet.
She also tried her hand at acting, mainly in small roles. Sex and The City Series' fans might remember Alanis from episode 4 in season 3. The episode is called Boy, Girl, Boy, Girl. The show's leading character Carrie Bradshaw is disappointed to find out that her cute new boyfriend is a bisexual. She tries to cope with the idea, but when he brings her to a friends' gathering, his friends start playing spin-the-bottle. Alanis Morisette plays one of those friends; who ends up kissing Carrie due to the rules of the game. This is the last time Carrie sees the boyfriend.
Alanis also dated Canadian actor Ryan Reynolds. In fact, the duo got engaged after 2 years of dating and remained engaged for another 2 years.
7. Bryan Adams
Bryan Adams was born in 1959, in Ontario, Canada. Adams has been one of the most loved and famous Canadian celebrities since the 80s. Bryan holds the record to being the most selling Canadian male artist ever. Rocker Adams released his first album in 1980. Bryan's most selling album is Waking Up the Neighbors from 1991. The song features the hit "(Everything I do) I do it for you", the signature soundtrack song from the 1991 movie Robin Hood: Prince of Thieves, starring Kevin Costner and Morgan Freeman.
Bryan's other soundtrack hit is the acoustic Have You Ever Really Loved A Woman, featured in the soundtrack of Don Juan DeMarco, starring Johnny Depp and Marlon Brando.
Bryan Adams also produced very successful duets with Tina Turner, Sting and Rod Stewart (another soundtrack hit for the movie The Three Musketeers), Barbara Streisand (for the film The Mirror Has Two Faces starring Streisand and Jeff Bridges.
8. Jim Carrey
Jim Carrey is one of the richest comedians and actors in the world. Born in 1962, in Ontario, Carrey started his career as a stand-up comedian. Even though he played in the comedy shows Living Color and did funny stints on Saturday Night Live, as well as appearing in several movies, Carrey became famous and one of the most wanted comedic actors with his role in the absurd comedy Ace Ventura, where he played a pet detective. His fame only strengthened and his paychecks increased with his following hits The Mask, Dumb and Dumber, Liar Liar and Bruce Almighty. However, despite having hit the $20,000,000 salary mark, he also proved his dramatic talent in bittersweet comedies like The Truman Show and Man on the Moon. However one of his most loved films is not a comedy at all. The movie is called Eternal Sunshine of the Spotless Mind, a romantic drama with some minor sci-fi elements.
Carrey has won 2 Golden Globes, many other awards and nominations and as far as MTV Movie Awards are concerned, he really goes home empty-handed. In fact, he is famous for the crazy and unexpected stunts he pulls at the show.
9. Celine Dion
Celine Dion was born in 1968, in Quebec, Canada. Despite all financial difficulties, she released her debut album in 1990 and from then on, she became of the most famous female vocals in the world. Despite winning many awards and selling a lot of albums, her biggest hit became her soundtrack song for James Cameron's hit film Titanic in 1997.It went on to become a worldwide number one hit and the biggest selling single of 1998.
Celine has released many albums in both English and French. She is also known for her marriage to René Angelil, who was born in 1942. He is really 26 years older. He is her manager and the two met when she was in her teens. She is younger than her step son.
10. Brendan Fraser
Despite having been born in Indiana, USA; Brendan Fraser is Canadian. Born in 1968 to a travel executive father, he saw a lot of the world growing up.
Brendan has been appearing in films since 1991. His first big break was 1992's sports drama School Ties, co-starring some of today's equally famous actors such as Chris O'Donnell, Ben Affleck and Matt Damon. Another one of his popular 90s movies is With Honors, where he plays a Harvard student who will need to deal with a homeless man in order to be able to graduate. The movie co-stars One Tree Hill's Moira Kelly and Grey's Anatomy's Patrick Dempsey. Brendan Fraser starred in many movies but box office hit came with The Mummy where he starred opposite Rachel Weisz. The movie went on to have 2 sequels.
Brendan still balances big budget productions with more modest dramas.
6 comments