ABILIFY: There is Another Alternative to Treat Unresolved Symptoms of Depression or Major Depressive Disorder
Fitness Equipment
March 24, 2011
Knoji reviews products and up-and-coming brands we think you'll love. In certain cases, we may receive a commission from brands mentioned in our guides.
Learn more.
ABILIFY is a FDA approved medication and is used to treat depression in adults 18 and over. ABILIFY is added to antidepressants for treating unresolved symptoms of depression, bipolar disorder (Manic or mixed), schizophrenia or major depressive disorders
Depression is a common mental illness among children, teenagers and young adults that may lead to difficulty in concentration, feelings of excessive guilt, excessive sleep, a sudden change in behavior, loss of interest in activities once one used to enjoy, feelings of worthlessness, sadness, anxiety, sudden panics, and a sudden change in appetite causing either weight gain or loss. Depression in either adults or children is regarded as a severe medical condition since it causes negative thoughts of suicide, or death. Definitely, these abnormal symptoms could interfere with your daily life at work or at home or at school, and even with your friends, beloved family members and relatives. The worst thing is that depression can last most of the day, almost every day for at least two weeks or months.
What is ABILIFY?
ABILIFY (aripiprazole) is a FDA approved medication for adults 18 and over with depression. ABILIFY is used as an add-on treatment to antidepressants (such as PROZAC®, PAXIL® CR, LEXAPRO®, EFFEXOR XR®, ZOLOFT®) for treating unresolved symptoms of depression or major depressive disorder in adults. However, ABILIFY is not approved for treating patients with dementia-related psychosis (for example, an inability to carry out daily activities due to increased memory loss) since taking ABILIFY can increase risk of stroke or even death among these patients.
What Should I Tell My Doctor or Healthcare Provider?
Caregivers, patients and their family members should watch for unusual changes in behaviour, worsening or new depression symptoms, anxiety, difficulty sleeping, extreme hyperactivity, impulsivity, hostility, panic attacks, irritability, restlessness, aggressiveness, agitation and even thoughts of suicide. Talk to your doctor or healthcare provider if you have experienced these symptoms while taking ABILIFY. You should pay special attention within the first few months of ABILIFY or/and antidepressant treatment or whenever there is a change in dose.
Call your doctor or healthcare provider immediately if you have sudden thought of committing suicide or if any of these symptoms become severe or attack suddenly during the drug therapy.
As with any other drug, ABILIFY may interact with certain medications that may cause other serious side effects. Before you take ABILIFY, tell your doctor all the drugs you take including vitamin pills, supplements, traditional herbals, over-the-counter drugs, herbal products, as well as other prescribed and non-prescribed drugs.
Prior to taking ABILIFY, please let your doctor or healthcare professional know about all of your medical conditions if you have or had a low white blood cell count; if anyone or you in your family have or had diabetes or high blood sugar; if anyone or you in your family have or had seizures; or you have suicidal thoughts.
If you are planning to get pregnant or are pregnant, you need to tell your doctor before taking ABILIFY even though there is no evidence that taking ABILIFY may harm your unborn baby. You should also let your doctor know if you are breastfeeding or are planning to breastfeed the baby even though it is not known if ABILIFY can into your breast milk and if it can harm your baby.
Who Should Not Take ABILIFY?
Do not take ABILIFY if you are allergic to the ingredients found in ABILIFY or you are allergic to it. The allergic reactions mentioned herein include swelling of the lips, face or tongue; itching, difficulty to breathe, hives and rash.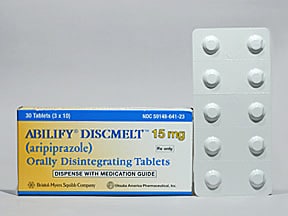 ABILIFY DISCMELT® contains phenylalanine, so it is not recommended for patients who cannot metabolize phenylalanine, especially those with phenylketonuria (PKU).
ABILIFY is also not approved for the treatment of patients with dementia-related psychosis or patients who are diagnosed with psychosis due to dementia symptoms (for example, inability to carry out daily tasks as a result of increased memory loss). In clinical studies, patients who are treated with antipsychotic drugs such as ABILIFY are at a potential risk of death in comparison to those who are treated with sugar pills or placebos.
Similarly, ABILIFY is not recommended for use in pediatric patients with depression.
Before Taking ABILIFY, What Should You Concern Yourself About?
If you miss a dose of ABILIFY, take it as soon as you remember; however, just skip the missed dose if it is time for your next dose. Do not take 2 doses at a time but take only your regularly scheduled dose. In case you have taken more or you take more ABILIFY than your doctor has prescribed, seek for medical assistance right away!
It is advisable to take ABILIFY as instructed by your doctor or healthcare professional. ABILIFY can be taken either with or without food and is taken once a day.
Do not change your dose or stop taking ABILIFY suddenly without prior approval from your doctor or healthcare provider.
As ABILIFY Oral Solution contains sugar, you should restrict your sugar intake.
ABILIFY tablets and Oral Solution should be stored at room temperature. Also, ABILIFY should be kept out of the reach of pets and children.
Antidepressants have long been known to increase suicidal thoughts or behavioural change in patients particularly within the first few months of drug therapy or when there is a change in dose. Therefore, patients on antidepressants and their caregivers or families must watch for thoughts of death or suicide, worsening or new depression symptoms, or unusual changes in behavior and report any of this symptom to the patient's doctor, or healthcare professional immediately, particularly when this symptom becomes chronic or occurs suddenly.
While taking ABILIFY, you should:
Avoid breast-feeding a baby
Avoid drinking alcohol
Avoid operating machines
Avoid driving
Avoid dehydration
Avoid overheating
What are the Possible Side Effects with ABILIFY?
The most common side effects with ABILIFY found in adults in clinical trials (≥10%) include anxiety, insomnia, inner sense of restlessness or need to move (called akathisia), headache, nausea, constipation, dizziness and vomiting.
You can safely take ABILIFY while taking other medication (s); but, taking ABILIFY together with other medication (s) may require your doctor or healthcare provider adjusting the dosage of ABILIFY that suits your existing health condition. Some of the medications mentioned here are:
PROZAC® (fluoxetine)
TEGRETOL® (carbamazepine)
QUINIDEX® (quinidine)
NIZORAL® (ketoconazole)
PAXIL® (paroxetine)
It is advisable and very important to tell your doctor or healthcare professional about all the medications you are taking to avoid any drug interaction or unexpected side effects.
Note: These are only some of the side effects with ABILIFY, so you should discuss further with your pharmacist, healthcare provider or doctor in regards to all the possible side effects that you will have to experience after taking ABILIFY. Also, tell your doctor if you have any side effects listed and/or not listed here or symptom that bother you or does not go away two days or more.
When Should I Get Medical Care Right Away?
Get medical care or consult your healthcare provider or doctor right away, if you experience abnormal, prolonged muscle contraction or spasm which might be an indication of a sign called dystonia.
Serious side effects may occur while taking antipsychotic drugs which also include ABILIFY. Please do not hesitate to talk to your doctor or healthcare professional immediately if you have or are experiencing any abnormal symptoms or side effects as listed below:
Swallowing problem: ABILIFY may cause swallowing problem or dysphagia. In case you have or had swallowing problems, you should call your doctor or healthcare professional immediately!
Neutropenia, agranulocytosis, and leukopenia: A decreased in white blood cells (or infection fighting cells) has been reported in clinical studies of some patients taking ABILIFY including antipsychotic agents. During the first few months of ABILIFY therapy, patients must have their blood monitored or tested if they have experienced low white blood cells or those patients with a record of an obvious decrease in their white blood cells count.
Suicidal thoughts: Medicines like ABILIFY may cause suicidal thoughts. In case you have suicidal thought, seek for medical assistance immediately!
Neuroleptic malignant syndrome (NMS): Neuroleptic malignant syndrome is a serious side effect but a rare medical condition, which may even cause death. Signs of NMS include sweating, increased heart rate, rigid muscles, increased blood pressure, shaking, and very high fever.
Stroke or mini stroke: In clinical studies, there have been reported of an increased risk of stroke or mini stroke in elderly patients with dementia including inability to perform simple tasks like combing hair, buttoning a shirt, and increased memory loss. In fact, ABILIFY (aripiprazole) must not be approved for treating patients with dementia or Alzheimer.
Orthostatic hypotension: Faintness or light-headedness upon standing caused by a sudden change in blood pressure or/and heart rate while rising too quickly from a lying or sitting position (or orthostatic hypotension) has been reported in patients taking ABILIFY.
Tardive dyskinesia: Patients with uncontrollable or abnormal movements of tongue, face or other parts of body may be at risk of a severe condition called tardive dyskinesia or TD, in which this serious medical condition may be permanent.
Diabetes and high blood pressure: Prior to and during the treatment of ABILIFY, patients with risk factors for diabetes (such as family record of diabetes, obesity), those with symptoms (for example, unexpected increases in hunger, urination or thirst) as well as those with diabetes must get their blood pressure or blood sugar monitored before and during ABILIFY therapy. In some severe cases, taking ABILIFY has been associated with coma, increases in blood sugar levels (also known as hyperglycemia) or even death.
Final remarks:
Information contained herein is for educational purpose only and does not intend to substitute for any medical treatment, diagnosis or advice. In any medical symptoms or emergency or any acute situation arising from using ABILIFY, you are advised to consult a registered and qualified doctor immediately for a further diagnosis and advice.
You are encouraged to report any side effects of prescription medications to the FDA by either calling 1-800-FDA-1088 or by visiting www.FDA.gov/medwatch.
You might like my related articles:
You read more of my content here.
As always stay healthy and happy!
10 comments