5 Cryonic Genre Films
November 27, 2010
Knoji reviews products and up-and-coming brands we think you'll love. In certain cases, we may receive a commission from brands mentioned in our guides.
Learn more.
5 Cryonic Genre Films, Cryo Preservation Theme Films
Cryonics is the utilization of freezing temperature to preserve living organisms like animals and human beings whose condition couldn't be sustained by existing medical procedures to keep their normal life functions. Alcor Life Extension Foundation had been the leading facility to offer this technology at present to those who can afford the storage fee of course. Founded in 1972, it is based in Scottsdale, Arizona. Well for those who will ask if a human body placed on storage had been revived before, our current technology doesn't have the means yet. Here were five films that will offer such inspiration should it be done in the near future. Just like the evolution of the computer and the morphing of computer functions into a handy smartphone, a solution maybe just a matter of time for reconsideration.
1. Chiller (1985) – A horror film directed by Wes Craven, the story plot tells of Miles Creighton (Michael Beck) a company executive who died after which he was placed in cryonic storage by his family. Revived from death after a decade, Miles was alive again but as soon as he resumed his place in the family owned company as the replacement of his dead father as the CEO, people around him started to die of strange circumstances. It took no time when less important people were finished that he turned to his mother who fortunately anticipated his moves and was able to lock him back to their home's big sized freezer before turning him over to the cops.
2. Forever Young (1992) – Capt. Daniel McCormick (Mel Gibson) was a B-25 pilot who must escape his suffering seeing his girlfriend Helen (Isabel Glasser) falling into a coma after a vehicular accident. The year was 1939 and McCormick approached his scientist friend Harry Finley (George Wendt) who earlier showed him the prototype of a cryo unit for storage he designed for the military so that he could be placed on "storage" for a year just to escape the suffering of seeing Helen die from coma. An incident happened and the cryo container containing McCormick was forgotten until it was accidentally opened by two kids playing in a military warehouse. McCormick was awakened in 1992 on a strange world which evolved without him for 52 years.
3. Encino Man (1992) – Popularly referred as California Man as released in Europe and Asia, this explored the comedy side of ice storage when a caveman frozen in an ice block was uncovered by two teenagers at their backyard in Encino, Los Angeles, California. The boys named their find Link (as in Missing Link) and Brendan Fraiser who took the part was in his earlier starting role as a caveman awakened from deep slumber in the 21st century, Robin Tunney was also part of the cast as the girl from the future who fall for Link (Fraiser).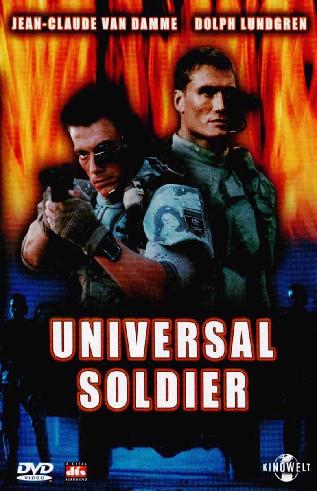 4. Universal Soldier (1992) – Jean Claude Van Damme and Dolph Lundgren were Vietnam soldiers who killed each other over a disagreement in a village placed under protection by American soldiers in Vietnam back in 1969. They were found by US Forces and their bodies placed on cryonic storage covering their deaths in the guise of being M.I.A (Missing In Action) so that they could be utilized for a top secret experiment which involved the reviving of dead soldiers to life in order to be used as fighting machines, part man, part machine with memories erased .
5. Demolition Man (1993) – This film ventured the concept of a CryoPrison. Set in 1996, LA cop Sgt. John Spartan (Sylvester Stallone) was leading a team of law enforcers to rescue kidnap victims from a notorious criminal Simon Phoenix (Wesley Snipes) when bombs were accidentally activated killing the kidnap victims. Convicted for involuntary manslaughter, Spartan was placed on cryo storage for 70 years with Phoenix. When the latter was revived from storage for a hearing in year 2032, he escaped and his deadly antics were just too good for the cops of that period to contain prompting the law enforcement to revive John Spartan from storage to go after him under the supervision of Lt. Lenina Huxley (Sandra Bullock).
References:
http://en.wikipedia.org/wiki/Cryonics
http://en.wikipedia.org/wiki/Universal_Soldier_(1992_film)
http://en.wikipedia.org/wiki/Demolition_Man_(film)
http://en.wikipedia.org/wiki/Forever_Young_(film)
http://en.wikipedia.org/wiki/Encino_Man
http://en.wikipedia.org/wiki/Wes_Craven%27s_Chiller
8 comments