3 TV Series About Aliens: Roswell, 3rd Rock From The Sun and V (2009)
October 26, 2010
Knoji reviews products and up-and-coming brands we think you'll love. In certain cases, we may receive a commission from brands mentioned in our guides.
Learn more.
This article is an overview of three TVshows about Aliens: The sitcom 3rd Rock from the Sun, sci-fi drama/thriller V (2009) and drama/mystery/romance/thriller Roswell.
Aliens have always been a popular concept for TV shows. There is almost always a show about aliens on TV but of course the shows generally differ vastly from each other with their plots and genres. Below are the plots and reviews of three popular Alien shows- 2 old and 1 still on the air, coming back with its second season in the Fall.
1) Roswell- Romancing The Aliens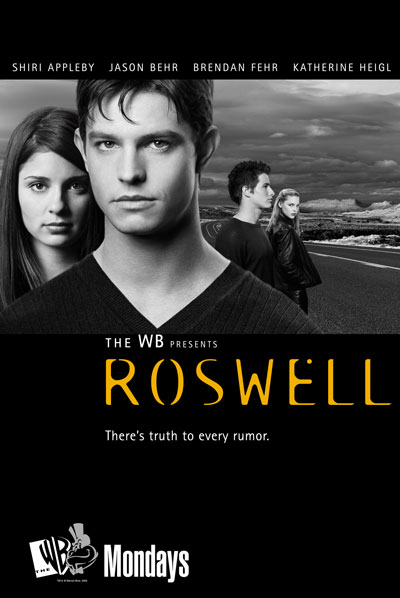 Image via http://www.albertspage.it/
Just like Buffy The Vampire Slayer romanticized the idea of vampires and created an ever popular love story between a human and a vampire, Roswell romanticized aliens and became quickly popular –especially among the female audience.
Roswell starts in a small town called Roswell. Liz (Shiri Appleby) is a successful high school student working part-time as a waitress in her parents' diner, along with her best friend Maria (Majandra Delfino).
They also have a male, sort of nerdy best male best friend Alex (played by Colin Hanks, son of (Tom Hanks). Their simple world gets extremely complicated when Max (Jason Behr) – a guy they go to high school with but never had a relationship with) gets involved in a shootout at the Liz' parents' diner. When Liz gets shot and she could die any minute, Max risks exposure and saves her with his special powers. As Liz shockingly, finds out, there was a reason Max only hung around with his friend Michael (Brendan Fehr) and sister Isabel (Katherine Heigl). The three of them are aliens.
Max swears Liz to secrecy. As Liz and Max get to know each other, they form a bond- an emotional connection, combined with sexual chemistry. Their closeness is not regarded so well by either Isabel or Michael. However they get to accept Liz as they realize she is not a threat and she will do anything for Max.
As the episodes progress, Maria finds out and this drives them apart from Alex. The aliens try to discover their past, hide their identities from Liz' s ex- Kyle (Nick Wechsler) and his extremely nosy sheriff father (William Sadler) and some mean aliens. Personality differences and romantic complications cause tensions and things don't get any simpler as Maria starts falling for Michael and Alex for Isabelle.
The show went on for 3 seasons. Emilie de Ravin joined the cast. The show covered a lot of mystery angles and romantic possibilities, never giving up on Max and Liz as soulmates.
The show is different from other shows about high-schoolers as they never tried to prolong seasons by mixing couples up. Liz never got interested in anyone other than Max. And Michael never fell for Liz.
The show's following was upset to see this refreshingly romantic and intriguing show go. However it always had the one advantage of a short-lived series: it never lost the point of the plot.
2) 3rd Rock from the Sun - The Hilarious Alien Comedy
Above: 3rd Rock from the Sun Cast: From left- John Lithgow, Jane Curtin, Joseph Gordon-Levitt, Kristen Johnston and French Stewart. Image via http://www.coverbrowser.com/
3rd rock from the Sun started in the mid 90s. This time aliens weren't romanticized but were taken full advantage of as great comedic material.
This is the story of 4 aliens. On a mission to study the earth and earthlings, a high commander, his second in command, an intelligence officer and a weirder, not so purposeful alien arrive.
They take human form (we never see them in any other form).
The identities of the aliens:
Dick (John Lithgow) is the middle-aged father of a teenage son named Tommy (Joseph Gordon-Levitt). Sally (Kristen Johnston) is his younger sister and Harry (French Stewart) is the eccentric brother. Dick takes the role of a physics professor, Sally becomes the care-taker of the house, and Tommy goes to high school. The mission is supposed to be short, but their interactions with the humans, Dick's falling for his colleague Mary Albright (Jane Curtin), and the oddities around them make the mission last a longer than any of them anticipated.
Although the show lost its humor momentum after the first 2 seasons, it remained as one of the most original and hilarious shows on air for all its 6 seasons (1996-2001).
The show's success came from the fact that the writers didn't just rely on one or two things for comedy. There were funny storylines, conflicts, interactions between characters, the reactions of the aliens, lots of physical comedy and smart one-liners.
The show especially loved creating comedy due to the aliens' having a hard time figuring out how to be normal human beings. They were extremely intelligent and sophisticated but they were absolutely clueless when it came to sex, relationships and social expectations. Their cluelessness about the secondary meanings and metaphors in the English language also created havoc.
In one episode, the boy gets sent home because he has caught a bug, as in cold. But of course Sally doesn't know all the meanings of the word and she tries to treat him with an anti-insect spray.
Dick's extreme behavior, Harry's quirkiness, Sally's first objections to becoming a female and the boy's coping with puberty made for priceless jokes and funny moments.Enjoy the video:
3) V - Mean Aliens vs. Good Aliens+ Humans
Image via http://cine-serie-tv.portail.free.fr/
V begins with a seemingly friendly alien ship arrival. The alien race looks, acts and sounds like humans. They are led by a charismatic female queen, called Anna (Morena Baccarin). She ensures humans that they are extremely friendly and they are only there to exchange some materials.
The world loves these helpful, pretty and technologically much more advanced species. The story has many layers:
FBI agent Erica Evans (Elizabeth Mitchell) is a single mother, raising her 17-year-old son Tyler (Logan Huffman).
Chad Decker (Scott Wolf) is a reporter who has never gotten the big break he deserved.
Ryan (Morris Chestnut) is about to propose to his girlfriend Val, who he is very in love with.
Father Jack (Joel Gretsch) is a modern priest, dealing with an empty church.
The real intentions of Anna, however, is much more sinister than she has let on. Erica becomes increasingly alarmed and joins forces with Jack and Ryan -who has been keeping a very important secret from his fiancée Val. Erica is in the most difficult situation of all as her son becomes fascinated with the aliens and believes they are not evil at all. Morever, he starts dating a V(visitor/alien) called Lisa (Laura Vandervoort).
The show is a well-balanced drama/thriller/sci-fi, a very successful and popular remake of the show of the same name from the 80s. The cast are very convincing and engaging in their roles and each episode comes with impressive twists and turns.
The show will begin its second season this fall. Most of the audience members were already familiar with the lead, Elizabeth Mitchell as she co-starred as Juliette in the already cult TV series Lost which ended this year.
If any kind of sci-fi repels you, you can still enjoy 3rd Rock from the Sun, as it is not about gadgets or fighting for survival but the aliens adapt to the world. V is in the fashion of Independence Day combined with Battlestar Galactica as it combines sci-fi elements with modern drama and thriller subplots and engages the ones who never felt compelled to watch Star Trek or Star Wars. Roswell was – although not quite as popular- were one generation's Twilight, but with many more male fans. The story had aliens instead of vampires but the love story was just as intense, albeit much more modern and contemporary as Max was the same age Liz and was raised as a human all his life. If you like a little supernatural element, there is a big chance you will enjoy at least one of these shows.
Resources: IMDB.com
11 comments