20 Bond Girls from "Dr. No" to "Die Another Day"
July 29, 2010
Knoji reviews products and up-and-coming brands we think you'll love. In certain cases, we may receive a commission from brands mentioned in our guides.
Learn more.
20 Bond Girls from "Dr. No" to "Die Another Day", The girls of James Bond
Playing as James Bond's love interest in a James Bond film goes with it the honor of being on the cast at one of the most prestigious film series in the movie industry with assured box office gross profit. Even being part of a single Bond film goes with it the competition as there normally comes 3-5 other ladies featured on the cast. James Bond films had been around for 5 decades and one could just imagine how many leading ladies and supporting ladies have shared the limelight of being James Bond's love interest on each film. Here were 20 of the leading Bond Girls through the decades and for the men to stir up their fancies of the good old days.
1. Ursula Andress - Born 19 March 1936, Andress was 26 years old when she took the role of Honey Rider on the first Bond film "Dr. No". A Swiss actress and a sex symbol of the 60s, she was first married to John Derek and dated most of Hollywood's leading men like Marlon Brando and James Dean. Her role on the film won her a Golden Globe.
2. Daniela Bianchi – Daniela was 21 years old when she played Tatiana Romanova in the 1963 Bond film "From Russia with Love". She was first runner up in the 1960 Miss Universe contest and was also voted Miss Photogenic by the press. Born 31 January 1942 in Rome, Italy she made a number of French and Italian movies after the James Bond film and retired from acting in 1970 to marry an Italian shipping magnate.
3. Honor Blackman – An English actress, Honor was 39 years old when she played Pussy Galore in the 1964 Bond film "Goldfinger". Born in Plaistow, Newham, London on 22 August 1925, she was also famous for her role as Cathy Gale in the British TV series The Avengers in the 60s and by playing the goddess Hera in Jason and the Argonauts (1963).
4. Claudine Auger – A French actress, Claudine was born 26 April 1942 and was only 23 years old when she played Domino Derval in the 1965 Bond film "Thunderball". She was also 1st runner up in the 1958 Miss World contest and earned the title Miss France Monde as the country's representative to such competition.
5. Akiko Wakabayashi – Playing Aki on the 1967 Bond film "You Only Live Twice" Akiko was born 26 August 1941. She had played on Japanese films prior to the Bond film offer and was known to retire from acting due to injuries accidentally sustained in filming.
6. Diana Rigg – Diana played Teresa di Vicenzo in the 1969 "On Her Majesty's Secret Service" Bond film aside from the character Emma Peel in The Avengers TV series. An English actress, she was born 20 July 1938 and was only 31 when she joined the ranks of James Bond's girls.
7. Jill St. John – Born 19 August 1940, Jill was an American actress who played Tiffany Case in the 1971 Bond film "Diamonds Are Forever". Jill was married four times and never had a child.
8. Jane Seymour – Jane is an English actress who played Solitaire on the 1973 set of the Bond film "Live and Let die". She was born 15 February 1951 and was only 22 when she took the role. She was also known for playing Dr. Quinn, Medicine Woman in the famous TV series with the same title.
9. Britt Ekland – Britt- Marie Ekland is a Swedish born English actress who played Mary Goodnight in the 1974 Bond film "The Man with the Golden Gun". She was married to British comedian actor Peter Sellers and later to Stray Cats drummer Slim Jim Phantom until 1992.
10. Barbara Bach - Barbara played Anya Amasova in the 1977 bond film "The Spy Who Loved Me." She was born 27 August 1947 and was 30 years old when she played the role on the James Bond film. She is presently married the 2nd time to the former Beatles drummer Ringo Starr.
11. Lois Chiles - Lois was born 15 April 1947 in Houston, Texas and was a former fashion model before she landed the role as Dr, Holly Goodhead in the 1979 Bond film "Moonraker". She was formerly in long term relationship with Don Henley of the Eagles until the death of his brother ended the affair. She battled breast cancer before she was eventually married to philanthropist Richard Gilder in 2005.
12. Carole Bouquet – A French actress and fashion model, Carole was born 18 August 1957. She was 24 when she took the role of Melina Havelock in the 1981 Bond film "For Your Eyes Only". Carole had been active in most European films and was a model for Chanel in the 90s.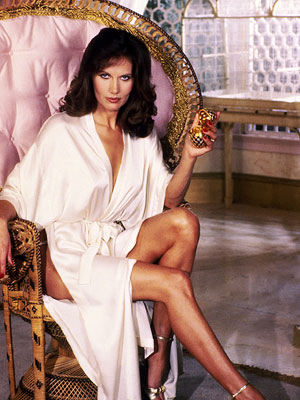 13. Maud Adams – A Swedish actress born 12 February 1945, Maud Solveig Christina Wikstrom played Octopussy in the 1983 James Bond film of the same title. She had actually played as a Bond girl twice having been in the 1974 James Bond film "The Man with the Golden Gun" as Andrea Anders.
14. Tanya Roberts – An American actress and born of Irish and Jewish descent on 15 October 1955, Tanya was named Victoria Leigh Blum. She had her first marriage at 15 which later ended as her mother intervened. She lived with her mother in Toronto before moving to New York and became a fashion and cover girl. Her second marriage was with Barry Roberts who was then starting a career as a screenwriter leading for her to take classes in the Actors Studio. She was 30 years old when she accepted to play Stacey Sutton in the 1985 Bond film "A View To A Kill" playing alongside Roger Moore.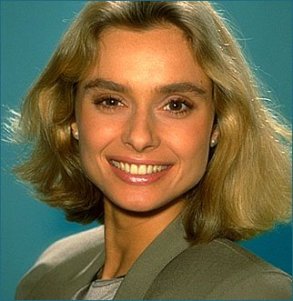 15. Maryam d' Abo – Born from a Georgian mother and a Dutch father on 27 December 1960, Maryam was raised in Paris and Geneva. She decided to become an actress at 11 that led her to take classes at Drama Centre London. She was 27 when she accepted to play Kara Milovy in the 1987 Bond film "The Living Daylights".
16. Carey Lowell – Born in Huntington, New York in 11 February 1961, Carey spent much of her time in her childhood travelling with her father who was a geologist. She signed with Ford modelling agency immediately after high school and was only 28 years old when she got the role of Pam Bouvier in the 1989 Bond film "Licence To Kill". Carey had been married 3 times the latest of which is to Richard Gere in 2002 with whom she had a son. The couple is a devoted supporter of preserving the culture of Tibet and practices Tibetan Buddhism.
17. Izabella Scorupco – Izabella is a Polish-Swedish actress born on 4 June 1970. She moved with her mother to live in Sweden when her parents separated. In 1989, she worked as a model where she was discovered by a director and starred in a movie. In the early 90s she had a brief stint as a pop singer releasing an album which went gold in Sweden. She got the role of Natalya Simonova in the 1995 Bond film "GoldenEye" and had further film appearances in "Vertical Limit" and "Reign of Fire" among other films.
18. Michelle Yeoh – Born Michelle Yeoh Choo – Kheng on 6 August 1962 in Ipoh, Malaysia Michelle is a Hongkong actress and dancer who was recognized for performing her own stunts in action films of the early 90s. Her portrayal of Wai Lin in the 1997 Bond film "Tomorrow Never Dies" brought her further acclaim. Another role in the Academy Award winning Chinese action film Crouching Tiger, Hidden Dragon in 2000 brought her a BAFTA nomination for Best Actress. She was hailed "The Greatest heroine of All Time" by the film critic website Rotten Tomatoes in 2008.
19. Denise Richards – An American actress and former fashion model, Denise Lee Richards was propelled to the limelight by her inclusion in the cast of the sci-fi film "Starship Troopers" back in 1997. Born 17 February 1971, she was 28 when she took the role of Dr. Christmas Jones in the 1999 Bond film "The World Is Not Enough". She married Charlie Sheen in 2002 with whom she have 2 daughters but filed a divorce in 2006 citing Sheen's alleged death threats and paranoia.
20. Halle Berry – Halle was born 14 August 1966 and was a former fashion model and reigning Miss USA World in 1986. She was 36 years old when she accepted the role of Giacinta "Jinx" Johnson in the 2002 Bond film "Die Another Day". She is one of the most highest paid actress in Hollywood and has received an Emmy, Golden Globe and won an Academy Award for Best Actress becoming the only woman of African-American descent to have won such award.
References:
http://en.wikipedia.org/wiki/Bond_girl
http://en.wikipedia.org/wiki/Ursula_Andress
http://en.wikipedia.org/wiki/Daniela_Bianchi
http://en.wikipedia.org/wiki/Honor_Blackman
http://en.wikipedia.org/wiki/Claudine_Auger
http://en.wikipedia.org/wiki/Akiko_Wakabayashi
http://en.wikipedia.org/wiki/Diana_Rigg
http://en.wikipedia.org/wiki/Jill_St._John
http://en.wikipedia.org/wiki/Jane_Seymour_(actress)
http://en.wikipedia.org/wiki/Britt_Ekland
http://en.wikipedia.org/wiki/Barbara_Bach
http://en.wikipedia.org/wiki/Lois_Chiles
http://en.wikipedia.org/wiki/Carole_Bouquet
http://en.wikipedia.org/wiki/Maud_Adams
http://en.wikipedia.org/wiki/Tanya_Roberts
http://en.wikipedia.org/wiki/Maryam_d%27Abo
http://en.wikipedia.org/wiki/Carey_Lowell
http://en.wikipedia.org/wiki/Izabella_Scorupco
http://en.wikipedia.org/wiki/Michelle_Yeoh
http://en.wikipedia.org/wiki/Denise_Richards
http://en.wikipedia.org/wiki/Halle_Berry
10 comments