11 Actors, 11 Drastic Weight Changes for Roles: With Christian Bale, Jared Leto, Tom Hanks and More
August 16, 2010
Knoji reviews products and up-and-coming brands we think you'll love. In certain cases, we may receive a commission from brands mentioned in our guides.
Learn more.
List of 11 actors who went through massive physical changes for their roles. Featuring Eric Bana Christian Bale, Jared Leto, Tom Hanks, Renee Zellweger, Charlize Theron, Vincent D'Onofrio, Robert De Niro, Gerard Butler, Edward Norton and Brad Pitt.
It is not uncommon for dedicated actors to go through impressive physical changes for their roles. Sometimes it is losing weight; sometimes it is gaining weight and/or putting on the muscles. Even though they do it under the supervision of nutritionists and fitness trainers, they still risk their health as they usually put on or lose too much weight in a short period of time. However luckily for the actors listed below, the efforts have paid off in terms of critical and/or commercial success.
1. Jared Leto
Jared Leto
Image via /i410.photobucket.com/albums/pp190/FindStuff2/Entertainment%20and%20Celebrities/Jared%20Leto/Jared.jpg
Jared Leto played John Lennon's assassin in Chapter 27 and he gained 62 pounds for the role. He is back to his regular self now. However Leto had also gone through a physical change for Requiem for a Dream years ago. That time, he lost 28 pounds.
Jared Leto in Chapter 27
Jared Leto in Requiem for a Dream
2. Christian Bale
Christian Bale lost 63 pounds for his role in The Machinist, where he plays an insomniac who starts confusing where the reality ends. The movie was critically praised and it earned several nominations. A year later, Bale got to play Batman so he got back the weight and put on some more and turned them all into muscle.
Christian Bale. Image: http://www2.netdoor.com/
Christian Bale in The Machinist. Image via http://rogersradiointernet.com
Bale in Batman Begins
3. Tom Hanks
Image: cinematografo.it
Tom Hanks has won 2 Oscars for Best Actor one of them being for the his role in the movie Philadelphia where he played a successful gay lawyer who caught AIDS and got fired because of it. He lost 30 pounds so that he could look sick and fragile.
Tom Hanks in Philedelphia. Image via: qcinema.com/
And while Tom Hanks didn't get an Oscar for his role in Cast Away, he was nominated. He first gained and lost 50 pounds – as he plays a man who gets stranded on an island as a result of a plane crash.
Tom Hanks in Castaway. Image: hugereviews.com/
4. Robert De Niro
Image via http://thefiendish.com/
Robert De Niro played a boxer in Raging Bull. For a long time, he held the record of being an actor who gained the most weight for a role, as he put on 60 Pounds. His record was later taken over by Vincent D'Onofrio Robert De Niro won the Academy Award for Best Actor with this role.
5. Vincent D'Onofrio
Left: Vincent in Full Metal Jacket. Right: Vincent, recent. Note that Full Metal Jacket was made over 20 years ago and he was much thinner than this.
Vincent D'Onofrio gained 70 pounds for his role as a soldier in Full Metal Jacket. Vincent didn't win any awards but this Stanley Kubrick film was nominated for Oscar and it is still considered to be one of the best war films ever made.
6. Gerard Butler – 300
Butler on a regular day. Image:iballer.com/
Along with the male cast of 300, Gerard Butler exercised very hard. I couldn't find the exact number, but they joke that they were doing stomach exercises even during the shooting breaks.
image: objetivofamosos.com
There might be some make-up touches, but at least 80% of the muscles are real. In fact, because of the intensive work-out Butler had to go through before and during the shoots, Butler stayed away from the gyms for about a year after 300 was wrapped up.
7. Edward Norton- - American History X
Image: hifriendz.com/
Edward Norton gained 30 pounds of muscle in 3 months for his role in American History X. which gained him an Oscar nomination for Best Actor.
Image: files.myopera.com
8. Eric Bana – Chopper
Image: http://www.poster.net
His role in Chopper brought Eric Bana AFI (Australian Film Institute) Award for best actor. It also won him the FCCA (Film Critics Circle of Australia Awards), the IF Award and he also was chosen best actor at the Stockholm Festival in 2000. He played a real life, famous criminal who penned his journey and became a best-selling author. He put on 30 pounds.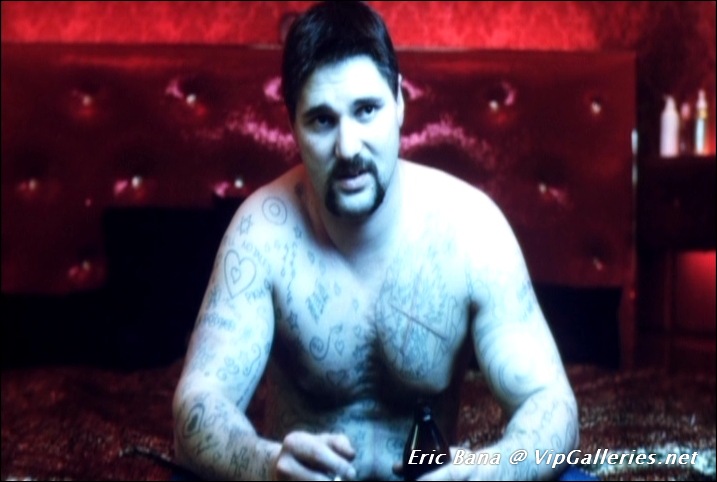 Eric in Chopper.
For Troy, he went into extensive weight training.
9. Brad Pitt - Troy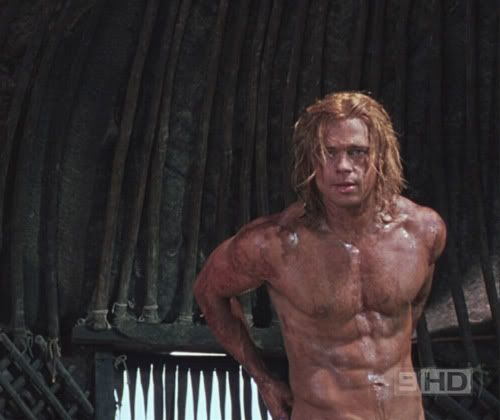 Image via: http://i17.photobucket.com
Brad Pitt gained over 20 pounds of muscle for Troy. So it is not all computer effects with Brad Pitt's and Eric Bana's abs.
10. Charlize Theron
Image: jsrpages.co.uk/
It is not just boys who take drastic measures to make their performances more believable. In 2003, Charlize Theron played the real life serial killer Aileen Wuornos in 2003 and won Oscar for Best Actress. She put on 30 pounds for this role.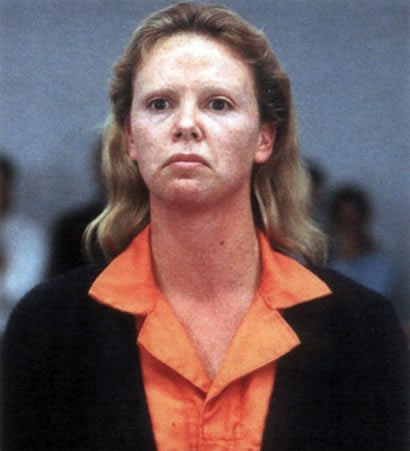 Charlize in Monster. Image:malaspalabras.com
11. Renée Zellweger
Image: aclasscelebs.com
For her part in Bridget Jones' Diary, Renee gained nearly 13 kilos (28 pounds). She plays the overweight, hopeless romantic Bridget Jones.
Renée Zellweger as Bridget Jones.
9 comments